Not just our mountain office of course, we frequently host teams at our Calgary office and out in the Okanagan as well; yet there is no denying – our scenic Canmore training center is the preferred venue! Custom team training sessions, team retreats, team alignments, and team building activities are not new services to us – we've been offering them, and running them, with relative regularity over the past 10+ years across western Canada. Yet, the past two years in particular have seen a undeniable spike in requests for these sessions, to the point where nearly 40% of all inbound inquiries to our firm are from CEOs, department managers, regional managers, and the like requesting more information about a potential focused day for their team(s). Why the increase? We have outlined 5 reasons below based upon feedback from our actual customers that book these sessions with us, and our own perception of what is becoming increasingly important to fast growing companies dedicated to investing in their people.
1. Work + Fun
No question that part of the increasing popularity of the team retreats is the option to incorporate some very fun activities into the experience. And the Canmore setting makes it so convenient and easy – being a natural outdoor playground for adults. Today's workforce is expecting a culture that values balance, harmony, and mental and physical well-being, and not just on some company web page, but rather actual embodiment of said values. It is pretty neat to witness a group who claims that fun and balance are an essential component of their company values spend an intense morning in a training session, then all head out for a guided mountain bike ride, then finish the day having some laughs together at a local distillery. And the congruence between written corporate culture and the actual living out of that culture is not lost on the team members, as they are typically the loudest voice demanding the scheduling of the next team retreat/training. Some sessions retreats are scheduled over an entire week, while some are just a half day. Besides the training room components, some activities we've helped our clients organize to spend recreational time with their team include: mountain biking, paddle boarding, hiking, canoeing, rafting, brewery tours, distillery visits, bread making classes, and nearly anything imaginable. The crazy, yet also completely predictable, thing about the type of company and leaders who are booking these retreats is that they are seemingly the least likely to be able to find the time for such rituals and investment. They are going at break neck speed and expect the same from their team members, and they realize a few pit stops, even in the middle of the race, will keep everyone tuned up, and topped up. 10 Years ago the norm seemed to be a request for either team training OR team building, today they seem to be one in the same by fast growing companies.
2. Shift to OKR Focus 
OKR standing for 'Objectives and Key Results', a rigorous goal achievement culture and method as outlined in the book Measure What Matters, by John Doerr. At first glance it is easy to see how people can say it's just semantics and goal setting is goal setting, how is this any different? Honestly, we're not sure. What we are sure about however, is it has changed the game in terms of our clients' enthusiasm, traction, momentum, and consistency. Things our clients love about the OKR platform for planning and goal setting include: the ever-present challenge to go for some 'stretch' objectives – goals that are truly exciting and inspire; the removal of distractions and the discipline to focus on current OKRs and nothing else; the transparency, support, and level playing field that comes with the OKR system's call for 100% public sharing of, and reflecting on, results; the dedication to ensuring all individual team members' OKRs are appropriately tied to, or supportive of, overall company OKRs; and the immovable ritual of resetting the OKRs at set intervals without fail. Of course not everyone approaches us for a goal setting type of session to begin with, but we usually wrap up ANY session of any kind with 'how' are we going to get this into action – at which point we introduce the OKR format. At this point we are typically booking further sessions to dive into the OKR concept in full.
3. Consistent Messaging and Source Content
Many of the sessions end with the customer asking, "how soon can I book the rest of my team into get this exact same training?" It's no mystery that generalized principles, skill training, process training, and essentially any message, when passed down throughout the ranks of an organization is extremely likely to be…well…let's just say, 'changed'. Meaning, it will be diluted and mutilated at each step as each individual manager transfers the concepts through their own lens and biases. You only have had to have played 'password' as a kid to know how fully competent humans can easily distort a seemingly clear message through simply passing it down the line. Our customers frequently cite the confidence and assurance that their people will receive the same source content and context as one of the top reasons for booking team training, planning, and development days with us.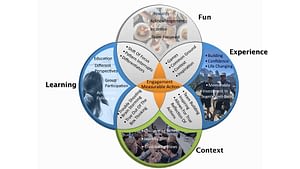 The Four Interconnected Pillars of our Private Team Sessions
4. Actionable Follow-Up Has Never Been Easier
Many of our customers have team members and offices spread across the country, or even the world and perhaps the main value indicator of the team session for many is – how well did we take what we discussed and learned and get real action taken as a result? With the ever-improving technologies like zoom, it has never been easier to check-in with your team and follow-up, and stay focused on initiatives and priorities stemming from the focused team session(s). Sometimes the follow up sessions are complete hour long coaching sessions, and sometimes they are simple 20 minute focus and accountability pit stops; sometimes they are with individuals and sometimes they are with 12+ people. Two weeks ago we had 12 regional managers across 4 different countries on a zoom coaching sessions…it's simply never been simpler to jump on and engage.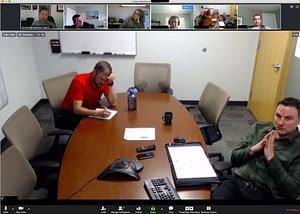 5. Top Talent Now Expects External Coaching
A great deal of the inquires we get are from employees, not owners. And, if in fact it is the owner, or C level person who does contact us, often they say they are reaching out because some of the younger up and coming leaders on their team had requested they do so. The message is coming loud and clear – so many (especially those under 35 it seems) are flat out 'expecting' access to external coaching in their role. One customer of ours recently had a situation where they were looking to hire an individual who was entertaining offers from a handful of other suitors. She ending up accepting the offer from our client and when asked 'why' she said that it was the fact that they were providing and including access to individual executive coaching for her – that was the primary thing of value to her. Besides the fact that outside coaching is expected – we are finding that team members today (again, especially seemingly with those under 35), are absolutely thriving with a 3rd party coach who is not also their manager.
To discuss your plans for a custom team session, contact us HERE.